In popular foraging spots in Europe, mushroom hunters will find paid experts on hand to look over their finds with them and approve their harvest as safe to eat. In some areas of France and Spain, mycophiles can bring their foraged mushrooms to their local pharmacy for food-safe approval. While North America lags behind in terms of this level of foraging for mushrooms infrastructure, that doesn't mean that Canadian and American mushroom enthusiasts shouldn't go out looking for fungi. 
Natasha Lloyd is a professional forager and qualified Medical Herbalist. She works as the in-house forager at luxury hotel The Fife Arms in Braemar, Scotland, an area in the Scottish Highlands where edible mushroom species like chaga, birch polypore, turkey tail, and more flourish in the wild. With an interest in the medicinal properties of plants and mushrooms that reaches back to her childhood and time spent in her mother's garden, Lloyd built upon her education in math and science to forge a career path centred on guiding curious learners in their own understanding of herbal medicines. We spoke to her about mushroom foraging best practices and the benefits of adding specific functional mushrooms to your diet.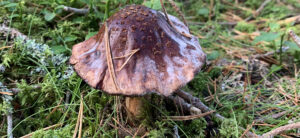 Foraging as sightseeing
For foraging novices, Lloyd recommends beginning with simple observation. "It's really important to observe, and to use your senses — to see, to hear, to feel," she explains, making sure to point out that with mushrooms, you never want to taste. "It's a matter of slowing down and being aware of the environment you're in. For mushrooms, when you find one, you look to see what tree it's under for identification purposes, because only certain mushrooms will grow with certain trees and in certain environments."
First time foragers may be inclined to keep their eyes trained on the ground, but depending on where you live, there could actually be mushrooms growing above you. Birch polypore, for example, is a parasitic bracket fungus that juts out from the trunks of birch trees that are typically dead or damaged. So look up as well as down while taking time to observe your surroundings carefully. 
If your knowledge of mushrooms is limited, think of your initial foraging expeditions as sightseeing trips. Observe your findings, take notes, and make sketches and photographs instead of harvesting the specimens you uncover. 
Harvesting wild plants and mushrooms
"With plants, you have to be a bit more mindful about how you harvest," Lloyd advises. "You don't just chop down the plants, you want to allow them to go from seed into flower, to flower and seed so that it can be there for next year, for the other people that come behind you. My rule of thumb is never take more than a third. And be very careful about how you do that."
With mushrooms, however, Lloyd says that the rules aren't quite as strict. "With fungi, you're looking for a fruiting body and hopefully it's mature enough that there are spores. So if you do harvest, for identification purposes, you would then put it in a basket, and that's what the traditional basket is for, to allow the spores to spread as you go along."
What this means is that harvesting mushrooms can be extremely beneficial to the life cycle and reproduction of fungi. Foragers are contributing to the spread and propogation of the very mushroom species they're harvesting. 
It's worth repeating that Lloyd recommends that foragers harvest for identification purposes only. One of the few ways to be certain that a mushroom isn't harmful is to make a spore print and examine it under a microscope — something beginners aren't likely to do or excel at.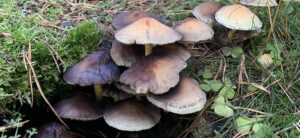 Foraging resources
Mycophiles are everywhere. A quick online search is likely to lead to information about a local foraging group or mycology association that includes veteran foragers or mushroom experts. These communities offer not only an education in mushroom foraging but insight into the interconnectedness of the environment that mushrooms grow in and the incredible ways that they interact with other living things in their vicinity.
Lloyd shares an anecdote that illustrates this perfectly: "We've used plantain for a long time for helping with inflammation in the stomach and inflammation in the lungs," she says. "It's also used on insect bites. After doing first aid at festivals in various locations, I realized just how important acute medicine can be to give relief to somebody. And so I started looking at this," Lloyd explains. 
Then, she had a chance to test the medicine on herself. "Last year I got a midge bite on my hand, so I got a plantain leaf, and it immediately went down. It was like magic. And it's because mycelium grows through the leaf," she says, crediting an insect-eating mushroom that utilizes an enzyme which is carried through to plantain leaves. "Through the soil the mycelium finds the insects and an enzyme in the mycelium breaks open the exoskeleton and liquefies the insides. They eat it that way. And it's that enzyme that's carried into the plant and distributed through the leaf that helps alleviate the discomfort of the insect bite."
Without the guidance of an in-person expert, Lloyd suggests the next best thing: writer, photographer, and botanist Roger Phillips' comprehensive book on mushroom identification. Known as the mushroom world's answer to David Attenborough, Phillips was a pioneer in the field of foraging and his work, simply titled Mushrooms, is considered the definitive guide for those seeking to pick up the hobby. Online resources also exist, like the volunteer-run First Nature which offers an extensive collection of photographs and information about over 600 species of fungi. 
Photo credits: Corrina Allen-Kiersons