Our bar is proudly alcohol-optional. This means we have just as many interesting and delicious non-alcoholic cocktails, wines, and beers as we do traditional ones.
We approached introducing cocktails to our menu in the same way we approach everything: through the lens of curiosity and a desire to explore new possibilities. 
What does a healthier cocktail look like, and what would make that better? How can we maintain flavour without adding sugar? Are there ingredients that can deliver on both complexity and nutritional properties?
After months of work, we're excited to share what we've come up with: a menu of cocktails that are equally flavourful and complex with or without alcohol.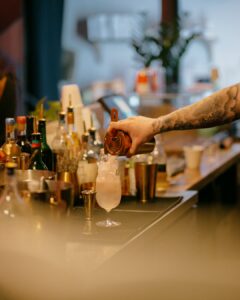 When it comes to making cocktails healthier, options are often limited. Our approach to cocktails is a menu of alcohol-optional drinks that use fresh ingredients and the least amount of sugar possible.
Read More »
Alcohol-free wine has come a long way from the vinegary or overly sweet grocery store finds you might have in mind. 
And thanks to our friends at Sobr Market, and our shared commitment to being an inclusive space for those who don't drink, our menu now features some great options.
Our alcohol-free wines can be split into two categories: 
De-alcoholized wines, where producers use traditional winemaking methods, and then remove the alcohol for an end product that is typically <0.5% ABV
Wine alternatives, which are not wines at all, but rather a blend of teas infused with various extracts and natural flavours; while they're not comparable to wine in terms of flavour, they're a great stand in for when you're not drinking alcohol but still have the urge to sip from a stemmed glass