Filmmaker Louie Schwartzberg describes his work as "journeys through time and scale." That description certainly fits one of his latest documentary projects, the runaway Netflix success "Fantastic Fungi" which combines gorgeous time-lapse cinematography with CGI effects to delve into the underexplored mushroom kingdom.
Narrated by Brie Larson, the film has a 100% approval rating on review aggregator Rotten Tomatoes and has inspired a mushroom-obsessed following, an album and this past weekend's Fantastic Fungi Global Summit where Schwartzberg was joined by a host of guests from the scientific, wellness and Indigenous communities to talk about the reasons behind the humble mushroom's sudden rise in popularity in the west and why that level of interest and demand is unlikely to fade any time soon.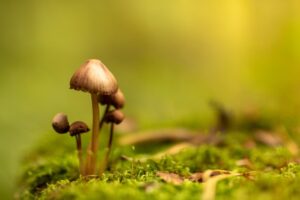 The proof is evident in shifts in pop culture and media. For example, Hulu's hugely popular limited series Nine Perfect Strangers. The series stars Hollywood heavyweights Nicole Kidman, Luke Evans, Bobby Cannavale, Michael Shannon and Melissa McCarthy. Director Jonathan Levine was on hand at the summit to discuss his first-person perspective on the change he's seen in how Hollywood looks at psychedelics.
Levine began his career in comedy, directing the 2015 drug-fuelled disaster romp, "The Night Before." That film used drugs — including psychedelic mushrooms — as a comedic device. "Nine Perfect Strangers," however, centers psychedelics as medicine, a view that's gradually but steadily making its way into the mainstream.
"I'm very happy to present that to the world in a way that's not fear-mongering," says Levine. "It exposes people to what I've experienced in my life: usually I've had a good time, occasionally I've had some deep insights … This kind of non-judgmental stance was important and valuable as part of the show."
Representation in the psychedelic sphere: the push to legalization needs to be inclusive
While western society's attitudes towards psychedelics evolve, efforts towards legalization have strengthened and grown in tandem with the recognition that psilocybin and similar compounds are an important tool in the mental health arena and beyond. As states consider making psychedelics accessible to the public, there needs to be a recognition of where their roots are and what true accessibility entails.
The legalization path was addressed at the Fantastic Fungi Global Summit by activist Tom Eckert who, along with his wife Sheri, spent a decade building the grassroots movement to legalize psilocybin in Oregon. Ballot Measure 109 passed in Oregon in November of 2020 legalizing psilocybin-assisted therapy under a licensing framework.
At its root, says Eckert, his campaign was not about the mushroom so much as it was "about removing the taboo around this human experience." His ultimate goal for Oregon is to move beyond the therapeutic setting to a model of legalization that "sees an integration between all the models — therapy, group therapy and personal growth."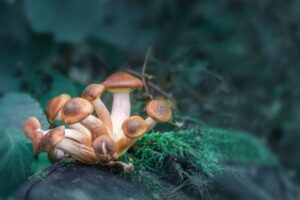 Eckert was joined by panelist David Bronner, psychedelic reform activist and CEO of Dr. Bronner's soap company, who highlighted legalization via the church model which has seen some success through new religious movements like the Brazilian-founded União do Vegetal (Union of the Plants) which won the right to use ayahuasca in their ceremonial practices in 2006 in a ruling by the US Supreme Court. Bronner is especially passionate about the right to grow your own psilocybin as it relates to equality in terms of economics and accessibility, referencing a legalization effort in California in which "mushrooms are treated more like tomatoes than cannabis."
Economics and accessibility were on the minds of many of the panelists who attended the summit. At the core is the concern that with legalization comes an inevitable commercialization — which isn't necessarily a bad thing so long as space is created for the communities who introduced these medicines to the west.
Maya Luna, founder of the Bruja's Council, an organization dedicated to the decolonization of Indigenous medicines and ancestral healing, suggested three pillars to support the legalization process so that it doesn't fail to include the communities that have been so integral to access and learning.
The first is responsibility to the planet, the plants themselves, and the communities that originated their use. The second is respect and a humbleness in our approach. This entails the cultivation of an understanding that these medicines traditionally work through a designated healer and require an element of collectivity for them to be truly transformational. The third and final pillar Luna says, is reciprocity. People working in the psychedelic arena need to "create space and opportunities for people of color who have a lineage to these practices," she advised.
Mushrooms are medicine, period
"We have to multiply the Oregon initiative," Francoise Bourzat, mushroom journey guide and author of "Consciousness Medicine" told attendees at the Fantastic Fungi Global Summit's panel discussion on mushrooms as a sacred medicine. The initiative, the ultimate goal of which is to provide broad access to psilocybin both within and outside of therapeutic settings, is the pathway Bourzat sees as being the best way to legalization. This entails the shift in perspective Levine referenced in his film work: mushrooms should and must be viewed as the medicine that they truly are.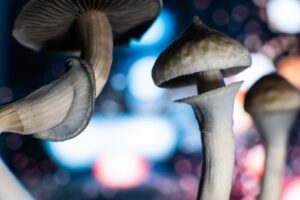 It also, however, requires an element of the status quo — at least in the view of some of the medical professionals who spoke at the summit. Malynn Utzinger, MD is the co-founder of the Usona Institute and oversees training of psilocybin facilitators.
She believes that in order to prove the medicinal efficacy of mushrooms in the western world, the evidence needs to come in a form understood by that world: a scientific one. From her perspective, the most assured road to legalization travels down channels that are already recognized under existing government structures. Empirical evidence obtained through "rigorous double-blind studies" that show governing bodies like the US Food and Drug Administration what they need to see in terms of their approval process is required. So while Utzinger's own hypothesis bends toward the combined effect of psychotherapy and psilocybin, some of her work aims to show how psilocybin operates independently by isolating its effects on subjects.
She also recognizes that there is a bigger story beyond the chemical compounds found in psilocybin and other psychedelics and that greater acceptance and interest have further reaching potential in terms of impact than in the therapeutic setting alone.
Mushroom-powered communities
Forecasting into an ideal near future, panelists at the Fantastic Fungi Global Summit like William Padilla-Brown, a forager, mushroom cultivation expert and entrepreneur, said that mushrooms have the power to change entire communities — if we're willing to tap into the metaphorical mycelial network and adopt an attitude that recognizes human beings as just one part of the Earth's intricate ecosystem.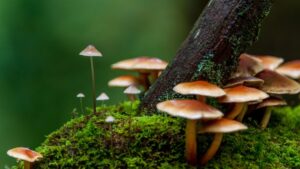 As interest in mushrooms grows, so too does the potential for us to harness their abilities to transform communities. Many panelists referenced psilocybin's capacity for deepening our connection with the natural world, something that technology and the economic system we live under has separated us from. "The research shows that a psychedelic experience can lead to this connectedness with nature," explains neuroscientist Adam Gazzaley. "It's a very commonly reported outcome."
Padilla-Brown describes mushrooms as "the Hooked on Phonics of ecological literacy" and a gateway to understanding forest systems and ecosystems. Through his concept of "social permaculture" he envisions a crossover between mushrooms as therapy for human beings and mushrooms as therapy for societal ailments like poverty, community disconnectedness and pollution. One example he cites is the fact that fungi can be cultivated on urban waste streams like coffee grounds and paper.
The ultimate aim is to create an improved social and environmental platform on which people can experience healing — be that in a formal therapeutic setting, via a traditional practitioner such as a shaman, or through their own personal spiritual journey without the burden of obtaining a medical diagnosis.
"We need radically retold stories," says Utzinger. That's the way to genuinely determine "what's healing and whole and worthwhile."