Just a few years ago, the use of mushrooms in health and wellness products was relegated to niche health food stores and fringe boutiques. But as research emerges about medicinal mushrooms' wellness benefits — including reishi, cordyceps and lion's mane — it's more likely than ever that you'll find functional mushroom products everywhere from chic salons and high-end spas to grocery store chains.
And while the humble fungus' introduction to the wellness aisle may be new in Western markets, mushrooms have long been used in beauty and wellness applications in Eastern cultures — in fact, it's this usage that has formed the backbone of much of the research that has brought mushroom-infused products to North American customers.
Dr. Andrew Weil, an integrative medicine practitioner who collaborated with skincare and cosmetics company Origins on its Mega-Mushroom line, told Women's Wear Daily that, in the 1970s, "there was no research on [mushrooms] at all, and I had begun to learn about traditional Chinese medicine, and was very struck by the fact that in East Asia, mushrooms are so highly valued. Now, this is such a hot topic. There's been an explosion of research …and a profusion of products on the market and consumer demand for them is tremendous."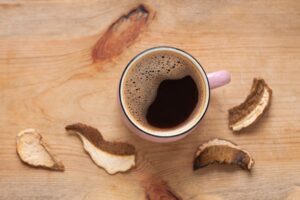 Origins is just one of a multitude of companies that have branched into mushroom-spiked wellness products in recent years: mushrooms can now be found in immune-boosting capsules, powders, and tinctures; infused into chocolates and candies; and even mixed into coffee.
And while recent mushroom-centric innovations have gone well beyond the arena of health and wellness — see: Hermes' new vegan leather, which is mushroom-based — the vast slate of products on the market today hint at a future in which fungus is as central to health and wellness as the multivitamin.
Here, we'll take a look at some of the most popular, innovative functional mushroom products available.
Functional mushroom products from soap to skincare
According to a 2016 study published in the journal Molecules, several types of mushrooms proved effective at combating aging, infection, and inflammation when used in topical skincare products. Like this study, however, much of the research into fungus' potency as a skincare ingredient is relatively new — much newer, at least, than the myriad research that has been done to uncover mushrooms' power as adaptogens, when ingested. "Mushrooms have been around for quite some time; however, it was primarily in the world of health food stores as an oral supplement," Dr. Jeannette Graf, assistant clinical professor of dermatology at Mount Sinai School of Medicine, told The Coveteur in 2020. "Topically applied mushrooms took longer to catch on."
The aforementioned Andrew Weil-Origins collaboration was one of the first mainstream mushroom-infused skincare lines: Mega-Mushroom, which launched in 2005, now includes mists, cleansers and creams, infused with mushrooms including reishi, cordyceps and snow mushroom, and is among the company's best-selling lines.
Chaga and reishi are among the mushrooms commonly used in skincare products: chaga is touted for its antioxidant and anti-inflammatory properties, while Dr. Karyn Grossman, a Beverly Hills-based dermatologist, recommends reishi for its hydrating properties. Biophile's Rejuvenating Serum, which contains chaga, reishi and tremella, and Wise's chaga-based face cream are two functional mushroom products that leverage these fungus' topical potencies.
Functional mushroom products can be healthy indulgences
From chocolates to gummy candies to lozenges, the adaptogenic powers of mushrooms are being leveraged to make some of our favourite sweet treats a bit more, well, healthful.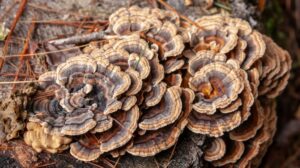 Bon Dea's chocolate morsels, for instance, contain turkey tail — which was shown in a 2014 study in the Journal of Integrative Medicine to have cancer-fighting properties — and cordyceps, which a 2011 Journal of Integrative Medicine study found enhanced athletic stamina.
The lozenges, meanwhile, contain reishi, which may help keep high blood pressure at bay. And, of course, indulging in the occasional sweet, specifically chocolate, itself has health benefits: a 2018 study showed that consumption of cacao had a positive impact on "cognition, memory, mood, immunity and other beneficial effects."
Drink it up
From mushroom-infused lemon juice teas to powders and tinctures that can be added to any beverage to mushroom coffee, most mushroom-infused products on the market today are meant to be sipped.
For many coffee drinkers, functional mushrooms have added a new layer to their morning (or even afternoon) ritual.
"With mushroom coffee, I feel energized and alert without feeling anxious, restless, or experiencing an accelerated heart rate. I feel grounded, too, and even find myself sleeping quite well, even on days when I have a cup of coffee at 3 or 4 p.m., which usually would have sabotaged my 10 p.m. bedtime and delayed my ability to fall asleep until well after midnight," says Joanna Townsend, a licensed psychotherapist and holistic health coach, in Fast Company.
Why the difference? Mushrooms can help diminish the effects of stress by offering supporting to our adrenals — effectively regulating energy level, emotions and brain function, explains Townsend.
And while the popularity of functional mushroom products in wellness markets has skyrocketed in recent years, thanks to increased consumer awareness of adaptogenic products in general, trend forecasters say the global functional mushroom market will grow an additional eight percent between now and 2024.