Upcycling, recycling, and waste-diverting: these are only a few of the benefits behind manufacturing with mycelium. From handbags to lampshades to yoga mats, mushroom is making huge strides as a natural material that makers are drawn to for its versatility and sustainability.
In 2014, MoMA PS1 exhibited The Living's 40-ft-tall mushroom tower built with 10,000 bricks grown from mushroom mycelium in only five days. The bricks were biodegradable and designed to be composted once the exhibit ended. Their manufacturing (or growing) required very few resources and produced zero carbon emissions. The project was a window into the future of what mushroom could do — and how mycelium might revolutionize the way everyday items are made, used, and disposed of.
Here are six more brands that are producing innovative, useable mushroom-based goods:
Grown Bio
This Netherlands-based biotech company makes packaging products to replace traditional styrofoam as well as interior design items like planters and light shades. Their products, the company points out, are not manufactured but grown using a process that results in a negative CO2 footprint. The look of their decor items is industrial and minimalistic and ranges from pendant lights to planters (there's even a mycelium teddy bear). The company uses the same licensed technology that was used to build the tower at MoMA and are currently working to scale the business to expand outside of the Netherlands — while keeping production local.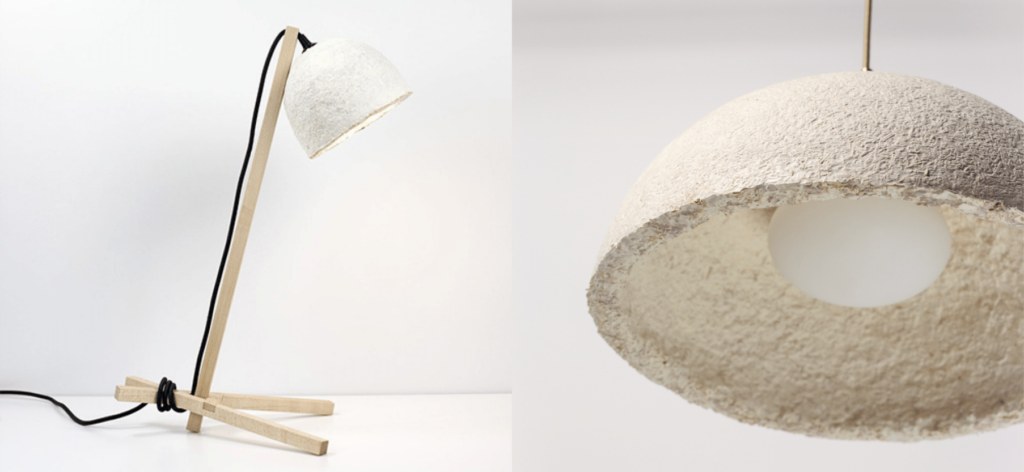 "The interesting question is: large factories or many small factories," says CEO Jan Barbee. "Large will bring economic benefits, but distance to customers. Meaning travel cost and CO2. Our philosophy is to 'go local' in partnership with local entrepreneurs, build small factories and serve local customers. Even using local waste streams. We are now developing that business model to make it scalable. A first cooperation already exists, with a company in Germany: Fixum Technologies in Neuwied, is now also an agent of Grown.bio and making the first steps to bring mycelium products closer to the German audience."
Ecovative
Ecovative is the mycelium product manufacturer that pioneered the technology used to make the bricks used to build The Living's mushroom tower. Since those early days of mycelial art and architectural endeavours, the company has expanded its product line dramatically to include mushroom leather goods, food products, and a line of beauty items that could make a massive impact on several industries where single-use plastic products are all too prevalent: namely, hotels and personal beauty service providers. Their MycoFlex material is designed to biodegrade at home in just a month. Designer Charlotta Aman used it to create a pair of disposable slippers that would be ideal for salons, spas, and hotels where throw-away slippers made of plastics are currently the norm.
Bolt Threads
As the creator of Mylo Unleather, Bolt Threads is partnering with innovative designers in the fashion space. Think: Stella McCartney, Lululemon, Adidas, and French luxury corporation Kering, which owns Balenciaga, Bottega Veneta, Gucci, Alexander McQueen, and Yves Saint Laurent. With that impressive CV, it's no wonder they're the leader in the world of mycelial fashion.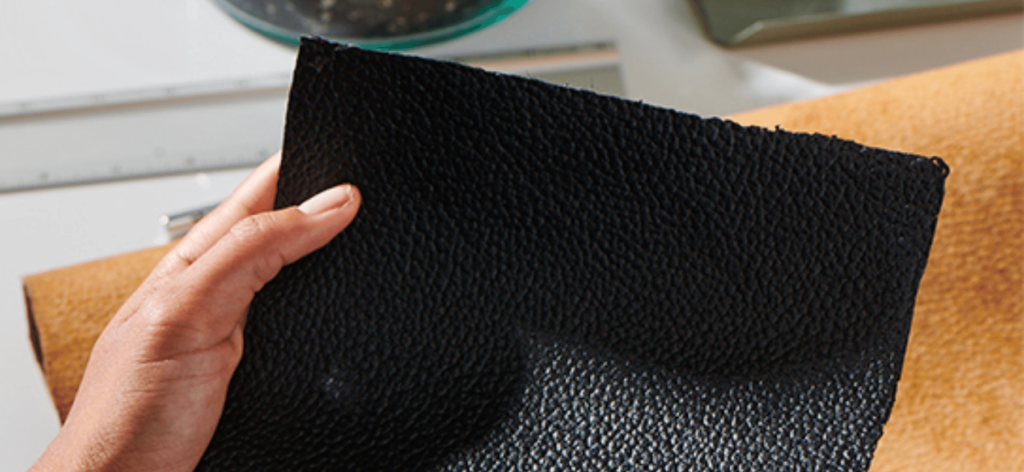 McCartney was the first to adopt Mylo, debuting the Frayme bag on the runway last year. It will hit shelves as part of her Spring/Summer 2022 collection. The designer has eschewed using animal leather for decades while refusing to settle in terms of material quality.  "I have always said that I don't want anyone to know that the products we sell at Stella McCartney are not leather; they should stand shoulder to shoulder with the real thing," she told Harper's Bazaar last May. "With Mylo, this is something that is grown in labs, which is truly the future. If we can get this right and get a viable alternative to leather, then it can really have a huge impact on the planet."
Lululemon
Canadian yoga wear designer lululemon is also using Mylo. The brand is among the founding members of the Mylo consortium dedicated to investing in sustainable materials like this innovative mycelium leather. "We've been experimenting with Mylo for almost two years, testing different applications of this groundbreaking material to create versatile products," says Dennis Wang, Vice President of Accessories Design.
As a concept, lululemon designed an additional product not available commercially: a woven Mylo yoga mat. We'll see if that gets "rolled out" any time soon!
MycoWorks
Mycoworks is another high-end mycelium-based maker looking to revolutionize the fashion world — just don't call their product "mushroom leather." MycoWorks brands the material they manufacture as "fine mycelium." The difference is in the structure. Their product is engineered to grow in three-dimensional intertwined thread-like forms whereas mushroom leather is compressed mycelium foam. The result, they say, is a more durable material. MycoWorks has partnered with fashion house Hermes to produce a fine mycelium bag out of a product they call Sylvania, a material that is "a hybrid of nature and biotechnology." The process sees the mycelium material grown by MycoWorks before being shipped to France to be tanned and finished by Hermes.
MycoWorks engineers Fine Mycelium material to suit the specific needs of clients — their product can be fine-tuned in terms of "softness, drape, thickness, shape, texture, flexibility, strength, and density" making it as versatile as it is sustainable.
Mogu
Mushrooms are also a multitasking building material for flooring and acoustic tile makers Mogu who have harnessed the power of mycelium for aesthetics and functionality. The company grows products that are meant to be seen — like their beautiful decorative wall panels — but that provide a service, too. The product doubles as a sound-absorbing acoustic panel ideal for home or office (or, especially, WFH office).  Perhaps even more impressive is their flooring system made of mycelium, agro-industrial residues, and a bio-based resin coating.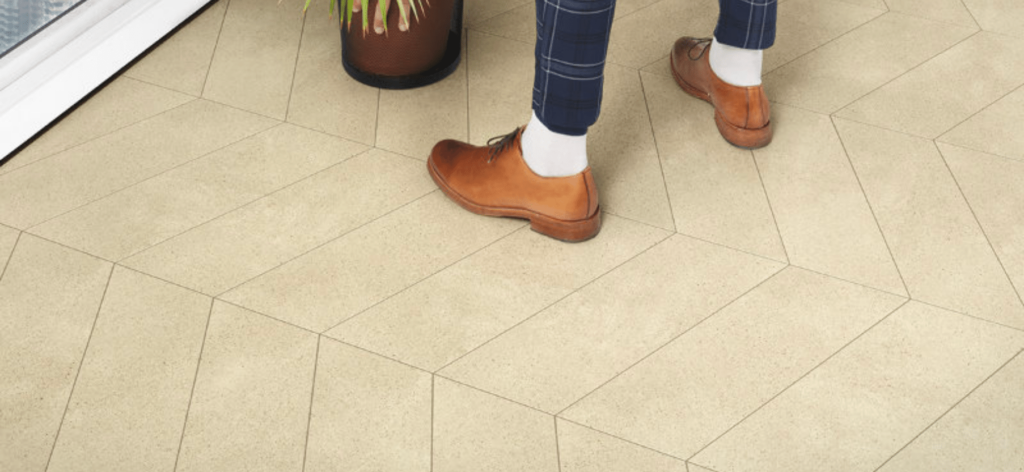 "Mogu Floor products are literally bio-based," says the manufacturer, "replacing traditional industrial pigments with low-value biomasses, such as corn crops, rice straw, spent coffee grounds, discarded seaweed and clam shells. Despite their look resembling stone, and their structural toughness, Mogu Floor products feature a warm and soft touch, providing an amazing and sustainable choice to walk on," they explain, adding that the inspiration behind the design "comes from nature, the fascinating tones of water, forests, earth and sand."