Though the topic of death is still considered a taboo to many, a wide range of speakers from backgrounds in science, healthcare, media and the arts came together to candidly speak on the issues surrounding it this week at The End in Mind conference, hosted by End Well. The event examined how we can change the ways we deal with death and dying and make the end of life a human-centred experience.
End Well was started by Shoshana Ungerleider, a physician who spent her career working in the Intensive Care Unit. Her time spent in ICU made it clear to her that patients had little say in their care or what was going on at the end of their lives — they had a mismatch of expectations as to what their prognosis was and what the next day or week would look like.
Ungerleider realized this came down to clinicians, who were prolonging their patients' suffering at the end of life. It was clear that doctors' mission to keep patients alive at all cost was often infringing on the quality of the end of their lives.
"We don't have those conversations because we're not incentivized to," she told Beatrice Society. "Our healthcare system is really set up to do things to people as opposed to really care for them in a way that matches their goals and values."
How we treat death and dying has to change
"End of life doesn't have to be a terrible, dark, painful time. We can do things in life that can set ourselves up," Ungerleider says. "By reflecting on your mortality, it allows you to live better every day. So we started End Well with the explicit idea that the end of life isn't a medical issue meant to be solved. This is part of a human experience, a human journey that we all take part in many times in life."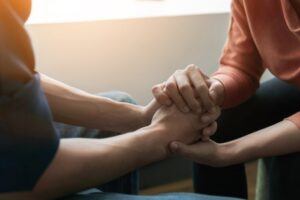 In her research into changing how we experience end of life, Ungerleider learned that for a long time, psychedelics have played a big role when it came to innovative solutions, but are only recently being highlighted.
"If these things show to work, shouldn't we investigate further," she wonders. This year, The End in Mind conference, which first launched in 2018, did just that.
A roster of notable names from the likes of musician Melissa Etheridge, MAPS founder Rick Doblin and CNN correspondent Van Jones spoke on a range of topics, including the current state of research, the intersection between the spiritual, the therapeutic and the social, and what the future holds for psychedelic therapy.
The End in Mind conference on medicines that change how we live
Mellody Hayes, an anesthesiologist and expert on the science and clinical applications of psychedelic medicine, spoke on how these medicines can help the collective body of a nation that is suffering from racial oppression and white supremacy.
"Psychedelics aren't just entering the individual body, psychedelics are also entering our social body and giving us the ability to change our collective mind," she said at The End in Mind conference. "Because of the legacy of racism, America itself is a traumatized body with a schizophrenic mind. It's split off from its pain and right now it's seeking its path to healing."
She explained that while illness is a medical process, wellness is fundamentally a social one.
"It would be a travesty if we kept focusing on pharmacology while ignoring the social conditions that create trauma," she said. "Beyond changing how we die, the magic of these medicines can change how we live together as a nation."
It's not about dying, it's about being fully human
Ira Byock, a palliative care physician, author and advocate, says despite the advancements in end-of-life care, people are still dying badly. While there's medicines that help with the anxiety and depression around death, they bring a host of side effects.
Psychedelics, on the other hand, are showing promising outcomes.
"If the research continues to be as positive as it's been, psychedelic therapies will be integrated into the services available through comprehensive palliative care programs and maybe beyond," he said. "Not all patients need them but as a therapeutic option for selected patients … these have real potential."
He admits that there's much work that still needs to be done, like what conditions are indications are required for these therapies, as well as further research into proper dosing, side effects and delivery models.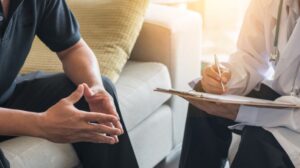 Laurie Brooks, a cancer patient and advocate, has credited psychedelic therapy with changing how she views not only her illness but the end of life. She's taken part in psilocybin therapy, with the help of medical professional guides. The experience has left her emotionally stronger, with the ability to think clearly about what she wants when it comes to treatment.
"It's clearing out the pipes and allowing me to live in the moment and not worry about cancer," she said. "When cancer came back a third time, I didn't have the same distress. The cancer is not leaving me alone but I can still live every day feeling happy and joyful."
For patient advocate Thomas Hartle, the experience was similar. After the aggressive re-emergence of his cancer in  cancer in 2019, he turned to conventional treatment methods to help ease the anxiety he was experiencing. Anti-depressants turned his world "beige" — while they took off the peaks of his anxiety, they also took off the peaks of the happy parts of his life. In his opinion, that wasn't a good deal.
Before his psilocybin therapy session, he was at a 36 out of 56 on an anxiety rating scale, as measured by TheraPsil, a coalition of professionals dedicated to providing access to psilocybin therapy for Canadians with a palliative diagnosis. The day after his session, he measured a six.
As time moved on, Hartle found the effects to both long lasting and far reaching. "These feelings and experiences are now a fundamental part of who I am," he said.
The End in Mind conference on what the future holds
Van Jones stresses that in order for big change to happen, big coalitions need to be formed.
"For these particular drugs, people are reporting positive effects in their lives," he said at The End in Mind conference. "We need to have a completely different approach to the prohibitions instincts that we've had."
Jerrold Rosenbaum, a doctor and director of the Center for the Neuroscience of Psychedelics, believes that in two or three years, there will be tools in the form of psychedelic therapies, which will help patients at the end of their lives.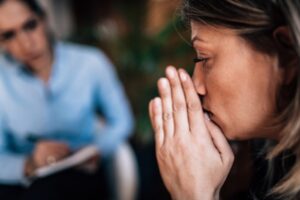 "There will be new developments in how they work and we will have more efficient, accessible treatments down the road," he said.
Rosenbaum adds that we have to be cautious about not re-doing history, such as the political setbacks experienced in the 1960s, which set the research back decades.
"We have to be focused on not tripping ourselves up and paying attention to the science and the conversation with others who are not yet onboard."
Anthony Bossis, a professor and psychedelic research lead at New York University, echoed Rosenbaum's estimated timeline in terms of when these medicines will be more widely available. While he stressed he had no insider knowledge, Rosenbaum predicted that MDMA would be rescheduled by the FDA in the next two or three years, and psilocybin in the next five years.
The End in Mind conference is proof that the conversation around how psychedelics can be a tool in improving the quality of end of life is going strong — and still going. And while it's undeniable that the end is a part of life, the work is actively being done to ensure there's quality to that end.